EXTRA 400 CN2

Monoblock CNC 5-Axis Sawing Machine - GMM Bridge Saws
The Extra blends the ease of use of a traditional manual machine, with the high output operator free sawing cycles. GMM Bridge Saws simple and intuitive programming enables owners and operators to get the most from the machine.
You can download the Extra 400 CN2 data sheet from this link.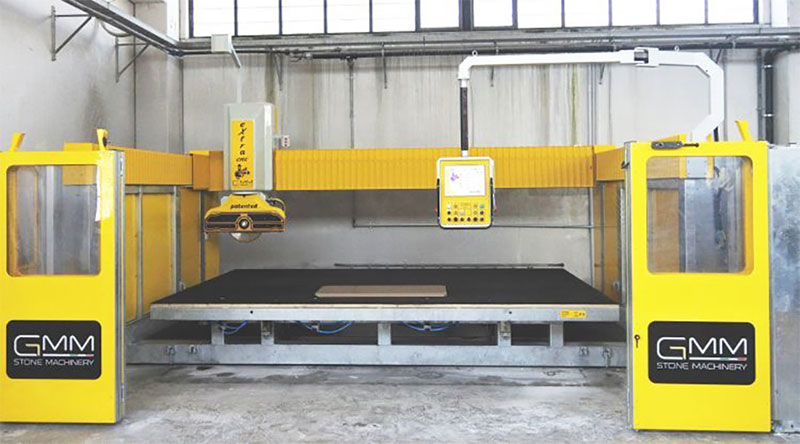 FEATURES
Fully interpolated 5 axis movement with rotating head with 370° range, inclination from 0°-90°.
Hot dipped galvanized steel fixed with saw surface in high density plastic rubber matting (optional) with max blade size of 625 mm (24.6 in) and minimum blade size of 300 mm (11.8 in) with Z axis (rise and fall movement) of 400 mm (15.75 in).
The complete structure is made up of hot dipped galvanized steel structures - supplied with folding door solid panel safety barriers.
Fast and precise movements due to brushless motors with absolute encoders, recirculating ball bearing movement, precision gearboxes and interpolated axis controlled by CNC.
Electro spindle running up to 4300 rpm (6000 on request with center water feed and a 36x2 or ½" gas fitting).
Suspended pendant with 15" TFT color touchscreen. Machine is equipped with USB/Ethernet port for easy loading of programs. Stainless steel electrical panel.
Upon request the machine can also be equipped with parametric drawings, Cuts From CAD, contouring, profiling and shaping, drilling with auto tool changer with magnetic connection, digital camera to provide a jpeg of the slab on screen.
By using the integrated Vacuum head, (upon request) the machine performs automatic movement/unloading of sawn pieces, man power and raw material saving.
Some of GMM's best products include 6-AXIS shaping machines featuring ultra strong structure for block cutting limestone. Examples are; LITOX 1000 CN2, E61L 700 CN2 and ZEDA series.
Technical Data
Cutting stroke of blade (x axis) - 3,700mm
Maximum bridge translation (y axis) - 2,700mm
Maximum vertical blade travel (z axis) - 400mm
Maximum angle of tilt head (r axis) - 0-90 degrees
Maximum blade rotation (w axis) - 0-370 degrees
Maximum blade diameter - 300-625mm
Maximum cutting depth - 205mm
Blade hole diameter - 50-60mm
Blade locking flange diameter - 213mm
Table dimension - 2,250-2,400x3,800mm
Power of the blade motor - 13 (S6)Kw
Blade speed - 800-4,300-6,000rpm
Slide cut speed (x axis) - 0-35m/min
Bridge translation speed (y axis) - 0-35m/min
Vertical movement speed (z axis) - 0-7,5m/min
Water consumption at 3 bar - 40l/min
Total machine mass - 4,200kg
Machine packing dimensions - 20' O.T. container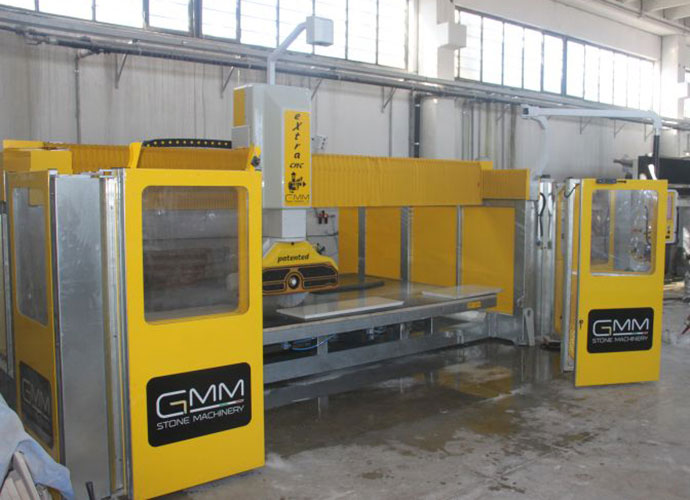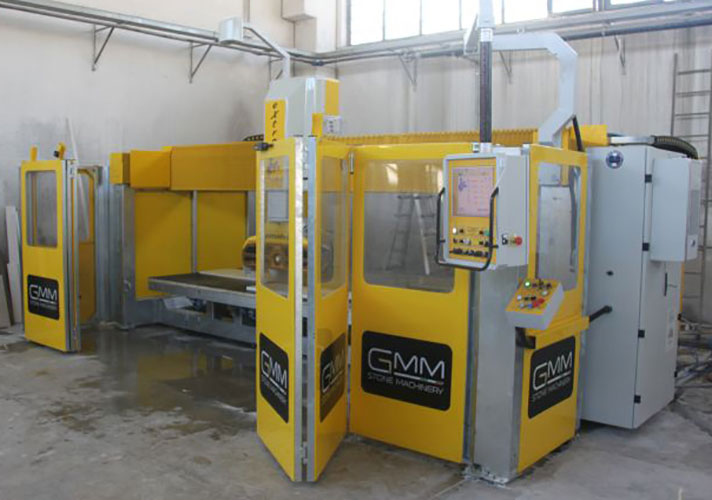 Single cut

Multiple cuts

Inclined cuts / mitre

Orthogonal cuts / Polygons

Circumferences / Arches

Optional Features
Cuts from cad.
Contouring 2D.
Tool diameter control.
Slab thickness reader.
Camera on board.
Optical template copier.
Center water feed motor.
Magnetic tool changer.
Parametric program.
Vacuum system.
Hydraulic tilting table.